ALUMNI IN FOCUS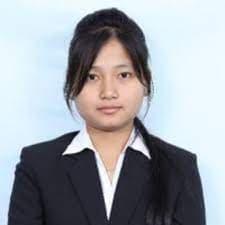 Regina Basumatary
Department: Food Engineering and Technology
Batch: 2008
Present Work: PhD Research Scholar McGill University, Montreal, Quebec
Regina Basumatary batch of 2008 completed Diploma in Food Processing Technology from CIT Kokrajhar in the year 2011. She completed B.Tech degree in Food Processing and Engineering from Karunya University, Tamil Nadu in the year 2014. After completing B.Tech she joined for M.Tech at NIFTEM, Sonipat, Haryana. She completed master in the year 2016. In 2018, She joined McGill University, Montreal, Quebec, Canada as a Research Scholar.

She has a vast work, research and teaching experiences. She worked at Pathogonia Inc as a Microbiologists, McGill University as a Student Assistant and Executive Application and Management Trainee at Deohler India Pvt.Ltd. She worked as a Research Assistant at McGill University, Montreal, Canada, and also worked as Teaching Assistant at McGill University for 2 and half years (2019-2021).

CITK is proud of her achievement and wishes her a glorious life ahead.